Sharing the Gospel. Making Disciples.
Gospel Heritage Ministries Inc. exists to share the life-changing word of God and prepare life-long disciples of Jesus Christ!
Support Gospel Heritage Ministries

Reaching people with the Gospel of Jesus Christ through evangelizing, discipleship, church planting, Bible college training, and various Charitable Activities!
What is our plan for the rest of the year?
Gospel Heritage Ministries Inc. is a 501(c)3 nonprofit organization. Our mission is to share the life-changing Word of God to all. Our vision is to reach all people's groups with the Gospel of Jesus Christ.
Our plan is to install four Water-wells and help build four churches in India. We would like to see God's people help us with these projects.
How Do We Accomplish This?



Charitable activities help us reach "communities" with the Gospel.

For example, A water-well was dedicated to a village. The whole community came with pots and buckets to fill them with water. Here is the testimony of one woman - "wow, this God gives us water without us asking for anything." Immediately, we had the opportunity to share that Jesus Christ not only gives drinking water but living water.
What is the Most Important Need?
Training Nationals.
The most effective way to reach a nation is to train men from that nation to reach their nation. How so? There are many factors that play an important, and undeniable role.
Culture. There is no way one could "learn" culture in his/her entire lifetime. Things change; culture changes. However, the natives have the advantage of knowing "most" of their culture. We do not have to send native missionaries to get culturally acquainted with their own culture. It saves time and money.
Food. The national missionaries do not have to adjust to their diet. They are aware of what to eat and where to eat. The nationals grow their food in their native places. Growing their food in native areas does not mean they have extensive land. They use what they have.
Expense. It is cheaper to train a native and send them to their native land. Imagine an overseas missionary going to a mission field. It would cost anywhere between $2,500-$11,000 per month.
By training a national to go to his place, it would cost roughly $1,200 per year.
Lifestyle. They are accustomed to a particular lifestyle from childhood. When they go back, this lifestyle is not going to change; they go with a burden to share the Gospel.
The list here is only some. But you get the picture. It is complicated to send foreigners to a foreign nation. Time is of the essence. Money is hard to earn. Therefore, the two important factors that need to be taken into consideration is time and money. Training nationals saves both.
redeemer Bible College
Our Students at Redeemer are thrilled to learn the Bible and share their heart's burden to the people of India.
Pray for them.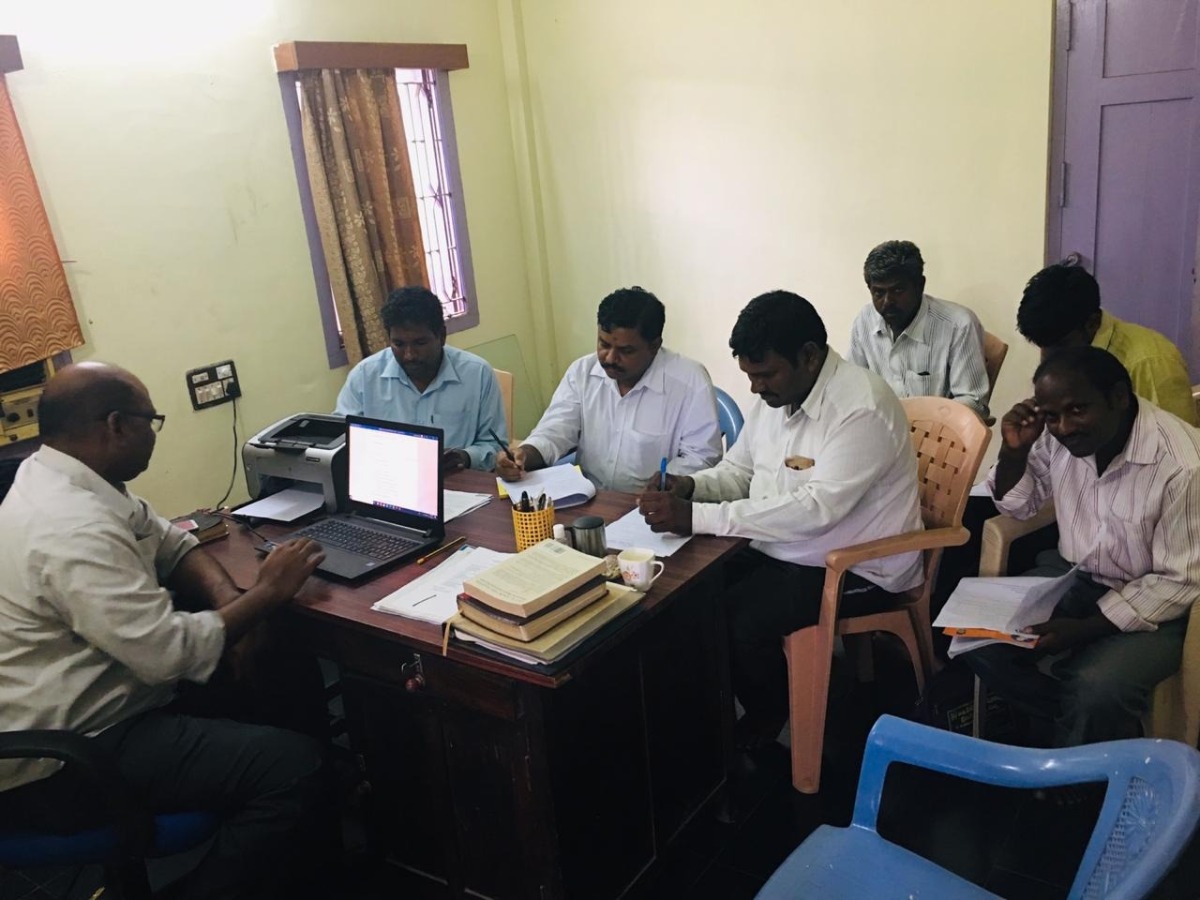 We need Four Water-Wells!
We need four water-wells in four different locations. Each water-well would be installed at the location of an established Church, whether it is a physical Church building or a thatched-roof hut.
We need Four Church Buildings!
One of the burdens God placed in our hearts when we visited our homeland is to pray and seek God's help for four places that need a physical Church building. Please pray for the provision.
"Throughout the year the Madasu's have continued to faithfully attend and worship with the people of Maxwell Hill Baptist Church. They consistently demonstrate the trustworthy character of godly servants and that is an encouragement to the body of Christ here. Because of their faithfulness here I can recommend them to you as servants worthy of your support both prayerfully and financially."
by Pastor Ken Killen, Maxwell Hill Baptist Church, WV.
"Gospel Heritage Ministries' mission is close to my family's heart. We love the fact that we personally know the Madasus and believe that sharing the Gospel is key to showing God's love in a cruel world. It brings joy to our hearts when we see the passion for the lost that they have and the willingness to equip those with a genuine desire to serve the Lord. We are thankful for this ministry and glad that we can serve alongside them."
by Ted Cancel Jr, Director of Development, GHM.
"Joel is smart, energetic, committed, and we are blessed to have him on the team. In addition to his work at the college, Joel has launched a non-profit aiming to help those in his native country of India. His passion is unsurpassed, and I believe he will serve those in his sphere of influence well. Joel is not only a leader; he has become a friend."
by Calvin Sutphin II, President, Catalyst Ministries Inc.
Every Dollar is Accounted for.
Here at Gospel Heritage Ministries Inc, we take the donors' generosity very seriously. We acknowledge that giving funds to any organization or a missionary is difficult for anyone. We all have needs and necessities; we all have to be careful in using the money available. But, on the other side, God uses us to demonstrate his love for others through us. We take your "giving" seriously, and keep track of every donation made to Gospel Heritage Ministries Inc through specific "purposes." These funds are used ONLY for the purposes of the donation made. We will also send a year-end financial report to donors along with the tax-deductible statement.

Dr. Ralph Sexton, Jr.

My name is Ralph Sexton. I am the senior pastor at Trinity Baptist Church in Asheville, North Carolina. I am happy to recommend my good friend, Joel Madasu. I have known Joel and his family for many years. He is a member of Trinity Baptist Church, we are his sending Church. It is Joel' s desire to use this gift of education to teach others what God has taught him. I encourage you to support our Missionary, Joel Madasu.
Please Give and Make a Difference!
Your gift is much appreciated! Please give towards FOR OUR MINISTRIES and help us reach the goal - the goal TOR EACH INDIA WITH THE HOPE OF ETERNAL LIFE.
Click the button below to donate!